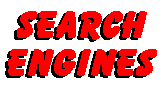 The Webpro Search Engine Assistant
(click the diamond) <!======================================================================>
www.isedb.com
www.directory-pages.com
www.limeysearch.co.uk
www.goguides.org
www.joeant.com
www.xoron.com
www.zeal.com (non-commercial)

Major International Engines
- Specialised Directories - International
South African Engines
- Specialised Directories - South Africa
Submission Lists maintained at Other Sites
Registration Guidelines & Tips
Multi-Site Submitters
Commercial Submission Services
Checking Utilities - Registrations, Meta Tags, etc.
Parallel Search Engines
Other WWW Links to Search Engine Information
Search Engine Tools

The information contained in this document should be regarded as volatile. The search engines compete for traffic and are continually changing the parameters and features under which they accept and provide information. All suggestions and comment would be appreciated. e-Mail Suggestions here! <!======================================================================>
---
---
The Google Link Checker: Search for link:www.yourdomain.co.za at www.google.com
Market Position's Link Popularity checker at: www.marketposition.com/linkpopularity.htm
---
<!======================================================================>

These sites are listed for those who insist on following opinions that agree with what they want to believe. THEY DO NOT WORK. You will wait months to find that only a few of your submissions have been successful.

Register 101
Scrub the Web
Add Me
Submit Shack


<!======================================================================>
---


COMMERCIAL SUBMISSION SERVICES
Central Registry . Untried
Internet Promotion Outlet . Inexpensive, untried

<!======================================================================>
---
Did-It.Com Detective . Checks and reports by e-mail.
Meta-Medic . Checks Meta-Tag descriptions & keywords.
<!======================================================================>
---
You search other engines with these engines, there is no submission process as they search multiple engines on your behalf and then score and correlate the results to present back to you. They do not maintain their own databases. This is the most powerful way to search and will become more and more popular over time. The MetaCrawler is the easiest and quickest at present.
All-4-One
Best Search
Metacrawler
SavvySearch
Search.COM
Starting Point
and last, but by no means least ...... Steve's Multi-Search Page if you really want to learn all there is to parallel and multi-engine searches.
<!======================================================================>
---

<!=================== REGISTRATION GUIDELINES ====================> REGISTRATION GUIDELINES & TIPS
Get high in the listings. If you are not in the top twenty you're half dead in the water. Most engines will "rank" your entry for each keyword so you have to follow the rules to get on the engines and to score as high as possible.
The multi-submitters, such as Submit-It, are not reliable. While they save effort and time it will be several months before you know for sure that half your submissions are not present on the engines. You've lost a lot of ground in starting to resubmit then. Nothing beats hand submissions.

Use the most important (key)words at least once in the first 100 words of HTML on your base page. And again if possible in the next 100 words. Remember that the "words" in a graphic image are not seen by the robots but ALT text can help here. Watch out for tables forming "margin banners" down the left hand side of the page as it is "high" on the page and will confuse the robots. Put it rather on the right if possible.

Your site must be finished in terms of text content before you start submitting. Robots and spiders visiting the site may dump your registration if the keywords are not present.

Ensure that you have used the &LTMETA&GT tags to define your site description and keywords. You can really stuff the keyword Meta Tag with extra keywords but make sure that you order them in terms of importance as most robots will collect the keywords up to a specific character count. It is predicted that more and more search engines will be making use of the Meta Tags in future.

Try to include the most critical keywords in your title text. Even if it doesn't look too good, most scoring engines give keywords in the title a big bonus.

The base (or home) page must link directly to sub-pages which you want indexed. Note that some engines index the base page only (eg. InfoSeek, OpenText and WebCrawler.)

Some engines will ignore the Meta Tags and will either pick nouns as keywords from the first 200 words or will index all words on the site. Others will ignore description tags and will use the first 200 or so words as the description. To cater for this you may want to open with text that would suffice as a description and will provide relevant keywords for the engine. A long keyword list under the Meta Tag is OK, just make sure that the important words are up front. Infoseek, for example, goes to some 1000 characters on keywords - thats over 12 lines text.

Watch the use of frames and image maps to link pages. At this time none of the search engines can follow down to frame links. The same goes for image maps. Tough but true.

Choose appropriate keywords. Pick the plurals where possible if they do not change the spelling of the singular. "Schools" includes "school", but "mice" doesn't include "mouse". "Surf" is not a wise choice even if you sell surf gear as "web surfing" references will swamp anyone looking for you. Try and think like the person trying to find your site. And always remember that they may be geo-specific so include "Durban, KwaZulu-Natal, South Africa, Natal" where that could be the case.

Don't spam! Duplicating a prime keyword several times may result in your submission being rejected - and you won't know why. Only OpenText at this time does not check for spamming.

Keep clean text files in your web data directory called descrip.txt and keyword.txt. That way you can load them up with Notepads and when the submission forms require the text you can dump it in with the clipboard copy/paste functions.

You need a structured followup programme to check on submissions. Conventional wisdom (as expounded in Webmaster forums) indicates that very few engines will return finds within six weeks of submission. Submission volumes are huge and they wait for repeat visits very often to ensure that the site is continually up and accessible. In line with this we would suggest the following programme; (and keep a hardcopy record)

Check for two critical keywords in week eight. Resubmit on every engine that fails to return a find.
At 12 weeks - recheck the "outstanding" engines and resubmit.
At 16 weeks - recheck the "outstanding" engines and resubmit.
At 20 weeks - recheck the "outstanding" engines and resubmit. Anywhere that you have not been registered by now will mean that your site is being rejected for some reason. Try e-mail to the WebMasters to find out why.

You should diarise to check the submissions (or have it done by your Website Administrator) on an annual basis. Some engines delete entries based on the failure of a single robot return to raise the site - and this could be caused by as simple a temporary problem as as bottlenecked trans-Atlantic traffic.

..... and lastly, and perhaps most importantly, PROMOTE YOUR SITE. Posting in the newsgroups, noting your website address on stationery and in advertisments can all dramatically increase website traffic. See the Webpro Site Promotion Page for ideas and suggestions.
---
<!======================================================================>
---
<!======================================================================>

OTHER WWW LINKS TO SEARCH ENGINE INFORMATION
Search Engine Forums at JimWORLD - Better than Excellent !
Art Of Business Web Site Promotion - Excellent !
Earth Net's Reports P.S. See the page above this one for a good example of creative design!
GK Web's Site Registration Assistant
Planet Ocean Increasing your website's "findability". Commercial offer ($97) for a "guaranteed" guide to ensuring your search engine submissions end up in the Top 10 of the major Search Engine indexes.
RankThis Initiates a web-wide search of engines for your URL against nominated search text.
Search Engine Strategies How to achieve "Top 20" positions on the major Search Engines. By Web Promote, a website promotion company.
Search Engine Watch Probably the most informative and up-to-date site regarding changes in search engine technologies and trends. A must to read through from time to time.
Webmaster's Guide to Search Engines
Yahoo's Top 200 Search Words Amazing, should you include any of these keywords in your Meta Tags if they are at all relevant? But be warned, 60% are sexual in nature!
---
<!======================================================================>

Please report any broken links or inappropriate descriptions to the Webmaster.
All suggestions for new sites to be included in this listing would be gratefully received.
---
<!======================================================================>

This page maintained by Webmaster @

- Worldwide Web Publishing Services
Durban, South Africa

Webpro &copy 1998.

Tel: 27 31 5638-344 Fax: 27 31 5644-928

---
These pages are provided and maintained for the use of Prosoft and Webpro clients. While you may not have a client relationship you are welcome to use the site but please do not link to it nor publisize the URL. Abnormal increases in non-client traffic causing server load will necessitate password barriers being installed.
---